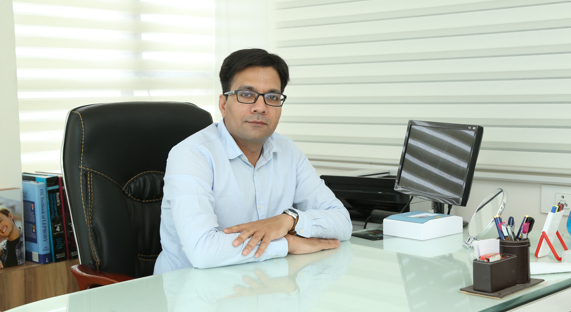 Welcome to Mayra Skin and Aesthetics Clinic
Mayra Skin and Aesthetic Clinic, established in the year 2018, is backed by immensely talented and experienced Dr. Kanhaiyalal Patidar, who is one of the best dermatologists in Indore. He has been providing skincare to people for the last 12 years. At Mayra Skin and Aesthetics Clinic, we are providing an extensive range of skin, hair and nail treatments, which are equipped with a number of best in era technologies. Right from common skin problems to complex skin issues, we have all the time-tested, proven, and advanced solutions that help you to get rid of these skin issues and diseases. People around the country have been finding the best long-lasting solutions here.  
Mayra Skin and Aesthetic Clinic
is here to help our extended family of patients to alleviate skin-related issues and achieve clear and better skin. With a wide range of treatments available, we offer the perfect tailor-made solutions to our patients at the right time.
ADVANCED AND FDA APPROVED MACHINES
The
Latest technologies incorporated in the advanced and FDA approved machines
help
achieve higher efficacy and precision in the treatments that we offer.
We have all these advanced and FDA approved machines to provide you
the best experience and the results at our clinic.
Spectra is a world-renowned top-end Q-Switch NDYAG laser, which is used for wide range of skin and nail related treatments. Hollywood laser peel, gold toning, laser facial, acne and acne marks treatments, nail infections, xanthelasma removal, anti-aging and rejuvenation are some of the most loved and sought after treatments.

German medical engineering, high-end laser machine used for laser hair removal, and for the treatment of nail infections and visible spider vessels of the skin. The machine uses safe and effective parameters which gives a comfortable experience during treatments. Clinically documented and proven to deliver results, virtually pain-free hair removal.

A high-end device for working with radio-frequency technology to aid with 

microneedling

 treatment for skin rejuvenation, skin tightening, and removal of other skin defects through efficient collagen production.

A full-body phototherapy chamber using narrow-band ultraviolet light to effic

iently treat autoimmune diseases such as vitiligo and psoriasis by directly working the cause for such issues. Time tested, safe for all ages, and result-oriented.

Hi-tech surgical unit working with radio frequency to provide precision and safety while treating your skin tags, warts, and other skin conditions.

An advanced technology device for

skin surface microscopy helps in the examination and diagnosing many skin, hair, and nail conditions. Also used to see the improvements on follow up visits.

The best machine to remove dead and dull layer of skin, and give your skin back its glow and evenness. Also used for scars and stretch marks treatment.

iGrow's proprietary Low-Level Light Therapy (LLLT) technology utilizes a highly effective combination of red laser and LED light diodes, to stimulate and energize cellular activity causing an uptake in the natural function of the hair follicle. This four- to six-month process treats hair thinning and loss, by effectively growing new healthy hair that is thicker, fuller and more vibrant.
Dr. K.L. Patidar

MBBS, MD (AFMC,Pune)

Mayra Skin and Aesthetics Clinic is built on the highest level of ethics and latest equipments backed by the knowledge of the skin, hair, nail diseases and their aesthetics.

Meet Dr. K.L. Patidar
Explore More About diseases & aesthetics
Mayra skin and aesthetics clinic is built on the highest level of ethics and latest equipment backed by the years of experience in skin, hair, nail treatments.
Everything You Should know About Skin Pores Clogging and What Complications It Can Develop
Everything You Should Know About Different Skin Types
Everything You Should Know About Oily Skin
Dandruff and Associated Scalp Problems
Psoriasis: A Chronic Disease Caused by Abnormality of Immune System
Skin, Hair and Nail Problems During Pregnancy
Hair Fall and Types of Hair Fall
Explore More
No. Of Satisfied Patients
Successful Procedures Done
"I took Hollywood Laser Peel treatment for my skin pores reduction. After 4 sittings, I see the visible results, and I am happy with Dr K.L. Patidar sir."
Sulekha
"Dr. K.L. Patidar sir is an amazing dermatologist. He offered a very good treatment for my pimples and pores and now my skin is much clearer. Thankyou doctor. "
Bablu Bamniya
I" took treatment for my hair fall and face/neck tightening. My looks are totally transformed after completion of treatment. Thank you, Mayra Skin and Aesthetics Clinic, and Dr. (Major) Kanhaiya Patidar sir. "
Nandkishore Patidar
"Best dermatologist in Ratlam and Indore. Best person." 
Dr Yogendra Singh Gamad
"Best skin clinic for skin disease. I am satisfied with the services and facilities available."
Harish Patidar
"Excellent dermatologist. One stop solution for your all skin related problems."
Kenit Ardeshna
"He is a nice person and an excellent dermatologist."
Deepesh Kaldale
"Best, very knowledgeable and dedicated dermatologist I have ever seen! He gives sufficient time to patients and give perfect diagnosis to cure the skin disease. He has changed my myth that skin diseases are incurable. Everything is possible for him."
Dr Lekhraj Patidar
"Best dermatologist. Excellent results. Nice work."
Sanjay Patidar
"Fantastic treatments. Dr. K.L. Patidar sir is a responsible and sincere dermatologist and always prefers to express his duty towards his patients." 
Somen Kumar Banerjee
"Well-equipped aesthetics clinic of Dr Kanhaiya Patidar sir. He has latest laser machines and instruments for all type of skin treatments." 
Nadeem Ansari
"Dr K.L. Patidar sir is a good doctor. He took time to explain my hair problem to me and suggested best treatments. I am happy with the results." 
Pawan Sharma
"Best clinic for all skin, hair, and nails related treatment. Thank you so much Doctor." 
Ashwani Singh
"Best doctor for all type of skin and hair problems." 
Sayyed Sameer
"A welcoming environment in the clinic and very humble and time giving doctor. I took Treatments for my hair fall. It worked great for me. Thank you, sir for the wonderful treatment."
Sabir Hussain
"Dr. K.L. Patidar sir is a very good dermatologist. He offers permanent solutions for all your skin problems." 
Mahendra Mayur Patel
"Best dermatologist in Indore. Very good clinic with all latest lasers and treatments."
Abhinav Patel
"Excellent dermatologist. One stop solution for your all skin related problems." 
Vinay Giri
"Best knowledge and best person. I recommend Dr Kanhaiya sir fir all skin, hair, nail problems. Also, for aesthetic treatments, he has the best machines and lasers."
Brajesh Sharma
"Best Doctor for your Skin Concern. Big Thanks for your support during the Pandemic." 
Deepak Shrivastava
"Very effective treatment for wrinkles by Dr. Kanhaiya sir. I am very much satisfied with the results and recommend Mayra Skin and Aesthetics Clinic to everyone." 
Raxiv Parashar
"Wonderful treatment by doctor with latest technology."
Abhinav Kumar Kundan
"Dr K.L. Patidar sir is the best dermatologist in Indore. Sir listens to all problems of his patients, gives sufficient time, and offers perfect treatment to cure skin disease. I am happy with the results." 
Devendra Rane
"Excellent diagnosis and treatment."
Laykishor Kekte
"You are a very good doctor. You are seeing your patient online even in such difficult times. Great job sir!" 
Sajid Mansuri
"Excellent Dermatologist. Even under this critical situation, he is doing great job like a warrior. Patients are happy with the treatments. He is really a good doctor."
Sajan Goud
"Excellent doctor. He listens to all the problems of the patients and treats them well." 
Ajay Sharma
"Really Friendly atmosphere… I took treatment for pigmentation and am 100% satisfied with the results. The clinic has best qualities equipment. I strongly recommend to those who really want to look beautiful/smart because this will build your confidence also."
Anurag Pandey
"Wonderful place for all the skin treatments and also very good atmosphere, staff's behavior is very good." 
Anand Sulaniya
"To the point treatment, Nice Care and excellent service! I highly recommend!" 
Manoj Vishwakarma
"Very nice skin care center, nice behavior of staff, best solution of your skin problem."
Pal Yash
"Best dermatologist in Indore, especially for treating acne and hair fall problems."
Ankit Rathi
"Best doctor I have visited for my skin and hair problems. He explained me the skin and hair problems and suggested right treatments which worked for me." 
Pawan Sharma
"Good doctor. His whole team took good care of my problem. My face is clear in 2 months." 
Yogesh
"I visited Dr. Kanhaiya sir for my pimple problems. He has the best acne treatments. He explained my problem in detail and provided a very nice treatment. Now my acne are completely cured and face is cleared and glowing. Thank you, doctor." 
Shabir Hussain
"I suffered from fungal infections for which I consulted Dr. K.L. Patidar sir. He gave me amazing treatments that have shown quick results. Now, my fungal infection is absolutely cured. Thank you, sir for the amazing treatment." 
Bheru Lal Patidar
"I took treatments for patchy hair loss from Dr (Major) Kanhaiya sir. It worked like miracle for me. Now my hair is normal. Thank you, sir."
Girish Sutrakar
"A very good treatment for skin problems."
Omprakash Patidar
"I took treatment for pimples and it worked giving out great results. The treatment and routine medications are fast acting. Totally satisfied with the services at Mayra Skin and Aesthetics Clinic." 
Mohita Patidar
"Really friendly atmosphere in this clinic & I have got awesome treatment from Dr. K.L. Patidar sir." 
Harish Patel
"Dr. K.L. Patidar sir has very sharp diagnosis, and very effective treatment. He is one of the best dermatologists in Indore city."
Devendra Rane
"Hi, 
I would like to share one of my great experience in this clinic. Few months back, I suffered severe acne with PIH. I was really worried about the problem. 
 
But with the treatments I took at Mayra skin and Aesthetics Clinic, I have got completely fine. My acne are cured and cleared. 
When I met Dr. K.L. Patidar sir, I found him to be a very polite person. He takes best care of his patients. He communicated with me in a very friendly and polite manner, explained my problem in detail, and gave me the best acne treatment. The atmosphere in the clinic is also very friendly. I would recommend the clinic to everyone looking out for the best skin treatments."
Pooja Sawant
"I had dark lips for which I took Spectra Laser Treatment from Dr Kanhaiya sir. The treatment has shown great results, the darkness is gone, and my lips look much better and beautiful now. Thank you, sir." 
Nadeem Ansari
"I found Dr. K.L. Patidar Sir to be very professional & personable. Have had bad experiences with dermatologists in the past, so Dr. K.L. Patidar Sir was a very nice surprise. He is an excellent dermatologist with a very friendly and caring nature. He is great with his diagnosis and treatments and I would recommend him to anyone looking for skin, hair, or nail treatments in Indore."
Faizan Aarbi
"Dr. K.L. Patidar sir is the best dermatologist in Indore. My hair fall problem is gone with his treatments. Thank you, doctor." 
Aashutosh Gangrade
"I consulted Dr. (Major) Kanhaiyalal Patidar sir for wrinkles around my eyes and sagging face. He has this wonderful machine, EndyMed Pure2.0. He did excellent treatment. I took few sittings from him. Now, my wrinkles are gone and my face and neck sagging are also corrected. The loose skin on my neck is gone and my face and jaw line are restored to a much younger looking state. Thank you Dr (Major) Kanhaiyalal sir for bringing such a technology to Indore. Thank you for your concern and treatment." 
Nandkishore Patidar
"Dr. (Major) Kanhaiya sir is a smart person and he treats the patient and their skin problems well. I consulted him for my 1.5years old baby. He was having red rashes all over his body and was very cranky. After his treatments he is perfectly all right in just 3days. Thank you, sir, for taking care of my child. God bless you!✌👌👍 "
Sachin Malviya
"I had scabies for which I took treatment at Mayra Skin ans Aesthetics Clinic. Dr. K.L. Patidar sir have great experience and knowledge and his treatment showed immediate results. Soon after I took the medicines prescribed by him, I felt relieved of my situation. Thank you, sir." 
Nishank Sahu
"I took laser treatment for my black lips and pimples from Mayra Skin and Aesthetics Clinic. Dr. (Major) Kanhaiya sir explained me everything about the problem and their solutions. I took Spectra Laser Treatment for my lips and Hollywood Laser Peel for my pimples. The results are amazing after just 4 sittings. Thank you, sir."
Jitendra Chouhan
"I took pimple and acne treatment from sir recently. It was very satisfying. I took few sittings for chemical peeling and it had very fast actions. Within a few days' pimples reduced and red spots faded. The other medications also gave very satisfying results."
Harish Patidar
"I had big pimples on my face. I visited Mayra Skin Aesthetics Clinic, at Bhanwar Kuan. Dr. Kanhaiya sir and Dr. Sandhya mam offered me good treatment which have shown amazing results. I have a much clearer skin now. My skin is glowing and pimples are gone. Thank you, sir and mam."
Shyam Patidar
"I had hair fall problem. Dr. Kanhaiya sir explained me about the problem and offered the best and most pocket friendly treatment for my problem. Now my hair problem is solved and I am very happy with the results. Thank you, sir." 
Rohan Kapse
"It's not been very long since I started my acne treatment with Dr. K.L. Patidar sir but I have already started seeing really good results. The most satisfactory part about the treatment with sir that he explains in detail about your condition and the improvement seen. It helps mark results more clearly. I am really happy with the treatment and I would recommend anyone struggling with acne to visit sir and take his treatment." 
Rajshree Chouhan
"Dr (Major) Kanhaiya sir is a good human being, a thorough gentleman. I consulted him for my nephew's allergy problem over lips. He was suffering from it for a long time. Dr (Major) Kanhaiya sir diagnosed him and advised best skin treatment. Now he is perfectly fine. Thank you, sir, for such a help. Keep up the good work sir."
Sameer Uddin
"Previously, I struggled with very severe pimple problems. I took many treatments but they didn't work at all. Recently, I took an appointment from Dr. (Major) K.L. Patidar sir at Mayra Skin and Aesthetics Clinic. His treatment worked like a miracle. I got rid of pimple and acne problems. His advice for good skin care helped me a lot. 
He is very humble person and a really great skin specialist. I would recommend him to everyone. 
Thank you, Sir." 
Swati Patidar
"I visited Dr. K.L. Patidar sir for hair reduction treatment and I am very satisfied with the results. Sir have the best hair reduction laser treatments in Indore. I recommend this clinic to everyone looking out for hair reduction treatment in Indore." 
Jaydeep Bhawsar
"I took treatment for my Psoriasis. Dr. K.L Patidar sir have a healing touch. He explained me about the disease and the treatment options and offered me the best treatment. My condition responded very well and I am much relieved of the pain. I am very happy with the treatment. Thank you sir."
Brajesh Sharma
"I had darkness on my face. Dr KL Patidar sir took good care of my problem. He explained me about the problem and suggested best treatment suiting my budget. My face is clearer within 2 months of the treatment and I am very happy with the results."
Yogesh Patidar
"Dr. K.L. Patidar sir is a really good doctor. He understands patients concerns and listen to all the queries and problem you are facing. I got chemical peeling treatment from him. Results are beyond what he promised. I recommend him to everyone struggling with acne and pimples."
Javed Patel
"Dr. K.L Patidar is the best skin doctor in Indore. I visited him for my skin and hair fall problems. He has the best lasers for skin treatment. After 4 sittings of Hollywood Laser Peel Treatment, my fine lines and pores have reduced, and skin is better now."
Pawan Sharma
"One of the best dermatologists you can find in Indore." 
Dr. Vikas Singh
Doctor
"I had pimple problem for many years. I visited Dr. K.L Patidar sir and he suggested peeling and laser treatment which worked very well for my problem. He is the best skin doctor I have seen in Indore. I trust him for all my skin problems now." 
Veer Patel
"I am very satisfied with my experience at Mayra Skin and Aesthetics Clinic. I just got done with my acne treatments and my face looks flawless. The staff and nurses were very friendly and informative."
Rohan Mishra
Business Man
"I am very satisfied with my experience at Mayra Skin and Aesthetics Clinic. I just got done with my acne treatments and my face looks flawless. The staff and nurses were very friendly and informative."
Shreya Malal
Management Student
"I am very satisfied with my experience at Mayra Skin and Aesthetics Clinic. I just got done with my acne treatments and my face looks flawless. The staff and nurses were very friendly and informative."
Neelam Gupta
Housewife
Schedule a Consultation
Ph:+91-89823 37464
Address:FL no.102 (above Sampoorna Sodani) Sanrachna Avenue 10AA,
Sch No. 54, Satya Sai Square, Vijay Nagar, Indore (MP) PIN-452014
INDORE (Satya Sai)
FL no.102 (above Sampoorna Sodani) Sanrachna Avenue 10AA Sch No. 54, Satya Sai Square, Vijay Nagar, Indore (MP) PIN-452014
Time: Mon, Tue, Wed, Fri, Sat: 11:00-12:30 PM and Thur: 4:00-8:00 PM
RATLAM
Mayra Skin and Aesthetics Clinic, Ratlam Ram-Mohan Complex, Near Maa-Bhagwati Hotel, Alkapuri Chouraha, Sailana Road, Ratlam(M.P.) PIN-457001
Time: Every Thursday 8:00 AM to 1:00 PM
DHAMNOD(DHAR)
Sri Shankar Hospital And Research Center New Prakash Nagar, Maheshwar Road, Dhamnod Dist- Dhar(M.P.) PIN-454552
Time: Fourth Wednesday of Every Month 8:00 AM to 1:00 PM

+91-95456 66525