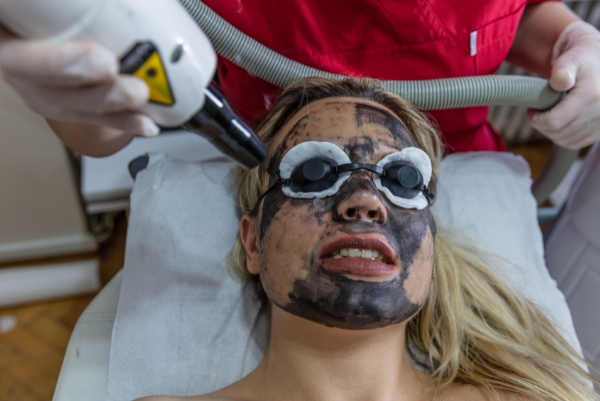 A carbon peel is a ground-breaking laser treatment that is totally painless with negligible downtime. It is highly useful for individuals with oily skin, enlarged pores, blackheads, monotonous skin, and pimples on the body or face. It is also an outstanding method to exfoliate and revive your skin, offering a quick refreshed look and leaving skin very soft, smooth and firm.
The treatment of Carbon Laser Peel works via putting a thin cover of carbon to the skin's facade. Once the carbon cover is consistently allocated, a Q-Switched Laser is sent to the area. The carbon elements soak up toxins and surplus oils on the skin and the laser power is brought into the black carbon color. The Laser power detonates the carbon.
These detonating carbon elements take out the dead skin creation in the pores and the internal partitions of the pores. The concurrent generation of thermal power rouses the amalgamation of latest collagen and the endorsement of a healthy-appearing complexion. Skin arrangement is evidently strengthened and distended pores cleansed and lucid.
Carbon Peel Laser Treatment Benefits
Purification
Carbon has a capability to soak up oil and pollutants profoundly within the pores. When the laser overtakes the treatment region it points out and destroys the carbon elements, taking any riveted substance with it.
Exfoliating
Since the carbon is aimed by the laser, it explodes away dead skin compartments, blackheads and successfully peeling the skin. The outcome is soft and glowing skin with decreased pore dimension and a smoother skin tenor.
Revitalizing
Carbon peels also aim the profound skin layers to rouse collagen making, which sequentially develops firm and plump skin, decreases fine lines and crinkles, and leaves skin much glowing and tighter.
Pimples and oil removing
The heat developed by carbon peels includes two extra benefits. It decreases the P.Acnes bacteria dependable for pimples, letting better administration of acne and eruptions, and it also contracts sebaceous glands, coming out in less oil creation, and thus decreasing congestion creating up in the skin pores. Treatments may be done on any portion of the body, involving the chest and back.
Since with all skin treatments, carbon peels must be added on by a good skin care schedule and regular use of a high range sunscreen. Obvious outcomes may be seen after a sole treatment, but for huge long-term outcomes we suggest taking regular treatments.
At Mayra Skin and Aesthetics Clinic, we provide one of the best carbon peel treatments in Indore. We have ten years of experience in skin treatment. We provide the best skin solutions to our clients.
Other Treatments at Mayra Skin and Aesthetics Clinic