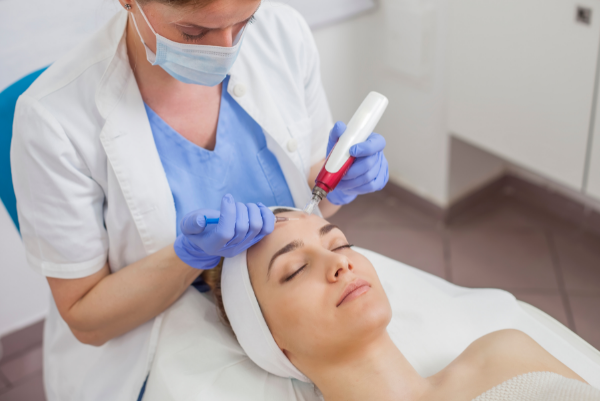 Almost all of us have faced acne outbreaks at some or the other point in our life. Many people hardly care about such outbreaks, but those are people with whom the problem is rare. As for people who face severe and frequent acne outbreaks, they know almost every treatment available for it, from the topical creams and gels to various steroids and tablets. But with the advancing medical science, there is a new treatment available for acne, the Acne Laser Treatment.
Acne Laser Treatment is a much viable option for you to treat your acne problems. It involves focusing a laser light directly over your acne or pimples and kill the bacteria causing it. The laser also soothes the sebaceous glands and prevents the secretion of excessive sebum. Sebum is a natural oil produced by our body to keep our skin moist. But too much of sebum can stick to the skin and block the pores in the skin, hence causing acne. Preventing such secretion will ultimately prevent the formation and spread of acne.
The Procedure: How does Acne Laser Treatment Work?
Acne Laser Treatment requires a lot of precision. Not every skin type is suited to every kind of laser, and not every laser works on every type of acne. So, the doctor will first carefully examine your skin type and the acne and determine what kind of laser will suit you the best. The determination of the type of laser will also depend on the color of your skin, to make sure that the laser treatment does not draw differences between the treated and untreated areas of skin by visible color differences.
After all these careful examinations, the dermatologist will move on to starting with your session which may take between 45minutes to 1hour. The dermatologist will apply a gel on the affected areas that would numb them, so that you do not feel pain or discomfort while the acne will be exposed to laser. After letting the numbing gel to set in, the affected areas are exposed to the laser. This laser light is highly focused and falls on very small areas of the skin, right on individual acnes and pimples. You can feel a heating effect on your skin while the treatment is in process. This depends upon the sensitivity of your skin. Some people experience no sensations or pain at all during the process.
Risk Factors: What things must be taken Care of?
You might find many texts mentioning that Acne Laser Treatments are not safe and involve huge side effects. But that is not true. Acne Laser Treatments can at times lead to redness, itching, peeling or crusting of the treated area, but this subsides within 24 to 48 hours. In some rare cases, it is also observed that the treatment leads to hyperpigmentation and darkens or even burns the skin. However, with our treatments you are free from this risk. With us treating you, you will never face any such side effects. Precision is what this treatment requires the most and we specialize in that. We stay careful about your skin type and skin color and suggest the treatment accordingly. Moreover, we use the most advanced technologies and latest equipments that cause minimal pain and eliminate the side-effects all together.
There are some pre- and post-treatment cares that must be followed by the patient, such as avoiding exposure to sun for atleast 48hours before and after treatment. Other than that, the doctor may also suggest some topical creams or oral tablets along with the laser treatment for better results. Be sure to not skip them. It is also important to understand that the treatment takes time to show results. The doctor might suggest you several sessions. Be patient and take every session.
With all these things taken care of, you are sure to experience excellent results from the Acne Laser Treatment. So, say bye-bye to pimples and acne and move on to a healthier, glowing, flawless skin.
Other Treatments at Mayra Skin and Aesthetics Clinic